Using the Children's Department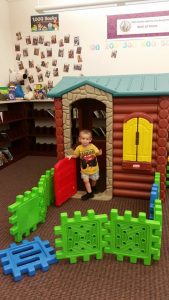 Your family will love their visits to bright, colorful, and bustling portion of the library! Library staff is always on hand to help with book recommendations or to explain the many features their department offers.  Ask them about our new "1000 Books Before Kindergarten" Program, and be sure to pick up a brochure or two showing all the upcoming events for your children. Book baskets are provided to help transport your selections to and from the library and can be checked out for 2 weeks.
Our Family Activity Center provides child-friendly furniture, soft toys, and a playhouse for hours of library fun.  There are two preschool computers available that are preloaded with fun and educational games, including earphones and a tiny mouse for small hands.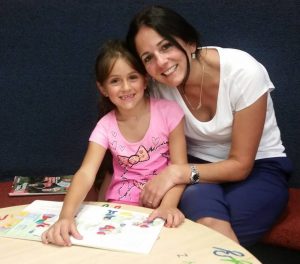 Materials available in the Children's Department:
Leveled Sections: Toddler, Picture books, Early Readers, Chapter books, Juvenile, & Young Adult

Special Types of Books: Big books, Board books, Concept books, Poetry, Folktales, Picture books for Older Readers, Award Winners, Paperback Series, Graphic Novels, Holiday Collections, International/Bilingual, & Nonfiction

Audiobooks: Playaways, CDs, and Book/Audio sets

Book/Puppet sets

DVDs

LeapPads and LeapPad Explorers including Leapster Explorer games

LeapPad Tablets and LeapPad Games

Learning Materials: Parent/Teacher resources, Reference books, Textbooks, and Story-time Kits

Magazines for kids and families

Music CDs

Playaways and Playaway Views

Playaway Book Packs and Playaway Launchpads

And Much More!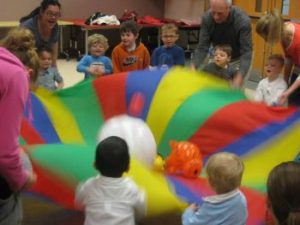 Programs for infants through 6th grade:  
Weekly Storytimes for Babies, Toddlers, Preschoolers, and Kindergarteners
Weekly Storytimes for active play including Bodies in Motion and Tiny Tunes
Once-a-Month Storytimes for Families
Book Clubs for Middles Grades
Programs for Special Themes & Holidays
and our annual Summer Reading Programs!
---
Useful Links
General
Child Development and Education
Health and Safety
Media and Entertainment
Movie Mom's Reviews
Columnist and film critic Nell Minow's movie reviews. Each review lists age-appropriateness and instances of profanity, nudity/sex, alcohol/drugs, violence/scariness and diversity issues.
Parents' Choice
Parents' Choice recommends the best, most educational, and safest children's media products, books, magazines, and toys on the market.
Money Smart Week
Recreation and Fun
School and Learning