WWI Panel Discussion
August 24 @ 7:00 pm

-

8:30 pm
Event Navigation
Register online or call 724.941.9430 #1. Advance registration is requested.
"Experience of War" and "Why Fight" Panel Discussion led by historian Todd DePastino, Executive Director of the Veterans Breakfast Club and Veteran Liaison for the World War I and America Grant Program. Panelists include Retired Lieutenant Colonel Benjamin Wright; Nick Grimes, Army, infantry, Afghanistan; Sarah Bryant, Army, helicopter pilot, Afghanistan; and George Dvorznak, a member of the Library World War II Discussion Group.
Participants are asked to read: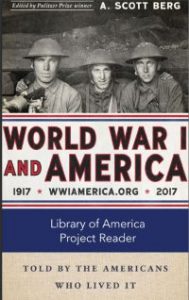 Chapter I. Why Fight? (pgs. 3-14) and Questions on page 94
Chapter II. The Experience of War (pgs. 15-31) and Questions pages 94-95
in the downloadable file World War I and America Told by the Americans Who Lived It Project Reader edited by Pulitzer Prize Winner A. Scott Berg.
Participants are asked to view the short video clips below:
About the Panel Members
Todd DePastino – Ph.D. American History Yale University –  is the Executive Director of the Veterans Breakfast Club, A 501(c)(3) non-profit dedicated to sharing veterans' stories with the public. The Veterans Breakfast Club has 500 active members in the South Hills of Pittsburgh and regularly attracts 100-150 people to its events. Over 3,500 persons have participated in the Veterans Breakfast Club's programs and activities over the past seven years. Todd is the author of the award winning Bill Mauldin: A Life Up Front (W.W. Norton) and five other books and teaches at Waynesburg University.
Benjamin Wright – Board Member, Veterans Breakfast Club – Retired Air Force Lieutenant Colonel and Air Force Pilot. Lieutenant Colonel Wright was a pilot during the Vietnam War, and the Cold War, and the Gulf War. He served during three remarkable historic eras – air lifting refugees out of Saigon, flying supplies into Communist strangled West Berlin, and coordinating support for the liberation of Kuwait. As Reverend Wright – an ordained Anglican Minister – he continues to demonstrate the same work ethic and commitment to work with other people to get things accomplished as he did in his military position as base commander.
Nick Grimes – Post-9/11 Program Director for Veterans Breakfast Club – he develops and hosts storytelling programs and conducts in depth oral history interviews with Post-9/11 Veterans. He also hosts a podcast, Longest War, which focuses on the stories and experiences of Global War on Terrorism Veterans. Prior to his role with Veterans Breakfast Club, Nick served as Operations Coordinator for Leadership Pittsburgh Inc. He is also a graduate of the inaugural cohort of Community Leadership Course for Veterans. Nick served from 2004-2011 in the United States Army on Active Duty. He served a total 27 months in combat in Kunar Province, Afghanistan with the 1st Battalion, 32nd Infantry Regiment, 3rd Brigade Combat Team, and 10th Mountain Division out of Fort Drum, New York.
Sarah Bryant – A diverse leader developed by 10-years of experience in the US Army, Sarah experienced unique perspectives from military assignments spanning the east to west coast. From attending West Point followed by flight school in Alabama, Sarah then moved to Hawaii, deployed to Afghanistan, and was honorably discharged as a Captain in 2015 in Washington state. As a UH-60 Blackhawk pilot, she has worked with both men and women, young adults, peers, older generations, and both US and foreign special operations units. Through her service she developed a passion for hearing people's stories, listening to their requests, and providing them with the best services possible. She aims to use her military personnel and project management skills, and recent business experience, to pursue a career in serving others through health and human services. While her days among the clouds, as a pilot, may be limited, her passion for growth and challenge on the ground remains constant.
George Dvorznak – member of the Library World War II Discussion Group
World War I and America is presented by the Library of America in partnership with the Gilder Lehrman Institute of American History, and the National World War I Museum and Memorial, with generous support from the National Endowment for the Humanities.
Related Events