History
The Peters Township Public Library is located in McMurray, Washington County, in the southwest corner of Pennsylvania. The library was founded in 1957 by the Women's Club of Peters Township and originally located in a section of the Peters Township High School. In 1961, the library was moved to the basement of the school administration building and in 1965 sponsorship was officially transferred to Peters Township.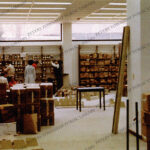 The library moved in 1976 to a 7,000 sq. ft. renovated township maintenance building, and constructed an addition in 1985 to increase the total size to 11,000 sq. ft. A fully automated catalog and circulation system was introduced in 1993. Due to tremendous growth in the township and a corresponding greater demand for library materials and services, planning for a new library began in 1997.
A ground breaking ceremony was held on April 4, 1998 for a 23,000 sq. ft. two-story facility. The new library opened its doors to the public on February 16, 1999. In 2000, the library received national recognition from the Hennen's American Public Library Ratings (HAPLR), which ranked the library fourth in the nation among public libraries serving populations of 10,000 – 24,999.
In 2008, construction was completed on a 4,800 sq. ft. expansion, which added a Teen Room, a Family Activity Center, a Local History Room, a Conference Room, and expanded shelving capacity on both levels of the library.
Today, the Peters Township Public Library is open 7 days a week from September – May, and 6 days a week from the end of May to the beginning of September. We are closed on Sundays during the summer months. The library contains over 136,000 items including books, magazines, DVDs, music CDs, books on CD, eReaders, Playaways, Teaching Company "Great Courses" CDs and DVDs, circulating video games for Wii and Xbox consoles, BiFolkal "Memory" kits, interactive books for children, LeapPad Electronic Platforms and books, and much more. Services include free public computers, online databases, e-audiobooks, wireless Internet access, a self check-out machine, homebound delivery of items, meeting rooms, book clubs for all ages, a free weekly e-newsletter, library blogs for teens and adults, and more. A multitude of programs for patrons of all ages are offered throughout the year.
Mission Statement:
In support of an informed citizenry, Peters Township Public Library provides printed and recorded materials, programs, equipment and staff services to meet the community's educational, professional, and recreational needs. The library strives to enrich and empower every patron by fostering a love of learning. Adopted by Library Board, 3/9/2004
Timeline
1957
Founding of the Peters Township Library by the Women's Club of Peters Township. Located in a corner of the Peters Township High School Library.
1959
Holdings: 2,500 volumes. Circulation: 1,950. Open: 6 hours per week.
1961
Location: basement of school administration building. Holdings: 3,043 volumes. Circulation: 3,718. Open: 9 hours per week.
1963
First township tax money given to the library.
1964
Library Board of seven members appointed by the Women's Club.
1965
Transfer of library sponsorship from Women's Club to Peters Township.
1967
Library awarded a Library Services and Construction Act, Title 1 Grant of $78,000 for books.
1968
A full-time professional librarian employed. Holdings: 16,704 volumes. Circulation: 55,938. Open 26 hours per week.
1970
The Friends of the Peters Township Library organized.
1971
Board appoints a Building Committee to plan a larger library. Holdings: 19,175 volumes. Circulation: 55,697. Open: 36 hours per week. Staff: 3.
1975
Bond issue of $159,931 to finance renovation of the township's former maintenance building for the library. Holdings: 24,151 volumes. Circulation: 82,068. Open: 45 hours per week.
1976
The new library opens — 7,000 square feet. $30,000 raised by township residents for library furniture and equipment.
1977
A large variety of 205 programs for children and adults is added. Holdings: 27,609 volumes. Circulation: 106,331. Open: 56 hours per week. Staff: 5.
1980
The first newsletter appears. Holdings: 35,023 volumes. Circulation: 132,257. Open: 57 hours per week. Staff: 6. Programs: 396.
1982
Peters Township Library becomes a part of the Washington County Library System as of July 1, 1982.
1984
Groundbreaking for an addition financed by a Library Services and Construction Act, Title II Grant of $97,125 along with matching funds from the township, $10,000 from the Friends of the Library, and $50,000 contributed by township residents.
1985
Dedication of the new addition (4,110 square feeet) on June 2, 1985. The library is now a member of Access Pennsylvania, a state-wide library card system.
1986
Holdings: 50,000 volumes, 1,200 records, 500 video tapes, 155 puppets and 300 audio cassettes. Also available: many magainzes and newspapers, a microfilm reader, a coin-operated copy machine, typewriters, computers, large-print books, cameras, interlibrary loan service, over 600 educational and recreational programs, and the opportunity to donate books in memory or honor of friends and family. Full and part-time employees: 10. Circulation: 187,022. Open: 67 hours per week.
1987
October 10, 1987, 30th anniversary of Peters Township Library. Circulation reaches over 200,000 for the first time.
1989
First phase of library computerization initiated. Computer center officially opens.
1991
Peters Township Library becomes a member of the Access Pennsylvania CD ROM database.
1992
Installation of computer terminals to begin library automation.
1993
April 5, 1993, library automation completed. Patrons now access collection via a computer terminal and the online public access catalog.
1995
Holdings: 70,845 volumes. Four databases available for public use: Business Newsbank, Access Pennsylvania, Magazine Article Summaries (MAS) and Social Issues Resources (SIRS). Circulation: 279,450. Programs: 720.
1996
Addition of two Internet terminals, as well as a PC in the children's room loaded with "World Bank Multimedia Encyclopedia."
1997
Planning for new library begins. New building to be financed by a $2,000,000 Peters Township bond issues, as well as a $200,000 Pennsylvania Department of Education Keystone, Recreation, Parks and Conservation Fund grant.
1998
Groundbreaking for new library on April 4, 1998. Construction of new library begins April 14, 1998. A fundraising drive to purchase library furninshing and equipment raises over $300,000. Time capsule installed in new library on December 5, 1998.
1999
January 15 – February 15, 1999 library closed for moving. April 17, 1999 dedication of the new library building. Name officially changed to Peters Township Public Library.
2000
Library receives national recognition by receiving a high ranking in the Hennen's American Public Library Ratings (HAPLR). Among public libraries in teh United States serving populations of 10,000 – 24,999, the Peters Township Public Library receives fourth place.
2001
Holdings: 96,188. Circulation: 307,193. Programs: 834.
2002
Launched the Peters Township Online Book Clubs. Installed the iBistro electronic library. Established the Blind / Low Vision / Learning Disabled Center. Hosted a "Local Authors Dinner."
2003
Work begun on Oral History Project. Became a distance learning center for library students from Clarion University. Redesigned the library's website.
2004
Holdings: 117,590. Circulation: 394,127. Programs: 939.
2005
Celebrated 6th anniversary in the new library on Feburary 14, 2005. Initiated a travel series. Hosted an Art Auction fundraising event.
2006
Installation of Wireless Internet Service. Library ranked 6th in the nation by the HAPLR survey. Holdings: 118,893. Circulation: 411,845. Programs: 1,132.
2007
Construction of 4,800 square foot library addition. Total cost $1,000,000, with partial funding by a $500,000 Keystone Grant. Library fundraising drive raises $500,000 in matching funds. Campaign slogan: "Here We Grow Again! @ Peters Township Public Library." April 15, 2007 celebration of 50th anniversary of the library. July 14, 2007 groundbreaking for library addition
2008
April 13, 2008: Dedication Ceremony for library addition.
2009
Library ranked 5th in the nation by the HAPLR survey. Launched downloadable audiobooks. Subscribed to Mango Languages database. Holdings: 138,886. Circulation: 413,856.
2010
Library receives "Voice of the People Award for Excellence" as a result of resident satisfaction with library services as determined by a National Citizen Survey (developed in conjunction with the International City/County Management Association) conducted in 2009. Library ranked 7th in the nation by the HAPLR survey. Launced downloadable electronic books, Universal Class Courses (offering 500 free online classes), and three databases (Global Issues in Context, Global REference on teh Environment, Energy and Natural Resources (GREENR), and Grizmek's Animal Life).
2011
Began circulation of Pandigital eReaders and Kindle eReaders. Launched Freegal (downloadable music).
2012
Peters Township Public Library Cookbook published. 11th annual Taste of the Township welcomes 450 guests and raises over $40,000 for the library. Launched new library website.
2013
June 6, 2013 Establishment of Washington and Greene Greater Information Network (WAGGIN).
2014
Installed the MakerSpace. Featured equipment includes three 3-D printers, a sewing machine, an embroidery machine, a digital cutter, a dremel tool, and 3-D pens.
2015
Installation of new circulation desk. Received a $5,000 grant from the Washington Financial Foundation towards purchase of new desk. Received a $13,700 Pennsylvania Public Library Broadband Connectivity Micro Grant from the Pennsylvania State Library to improve Wi-Fi service in the library. Adoption by Peters Township as an official municipal department effective July 1, 2015. Myra Oleynik begins her position as new Library Director on July 20, 2015. Outgoing Library Director Pier Lee is bestowed title of Director Emeritus.